Description
The day has arrived where parasitic infections are common knowledge and most don't need convincing that they may have or be susceptible to having one. After a lifetime of not knowing we may get them, not cleansing our bodies regularly, unconscious eating and diet, it turns out that many of us may have one today. 
The day I found out parasites in humans was a possibility when multiple family members became ill, all at once. I began to research herbs and remedies that may help in such times. I have focused on modern issues pertaining to parasites, fibers, and mucus, which were aspects that not many others knew, at all. For the past six years, I have helped pave the path for parasitic and pathogenic herbal blends. This blend actually became so popular, so fast, that other companies quickly stepped in and attempted to replicate it! They have come out of the woodwork to imitate my creations!
The statement, "We all may have parasites", maybe a huge understatement! So much has come to light, in relation to parasites. We can pick them up in many ways, including contact with insects, food, water, sex, the air we breathe, household pets, animals, and even penetration directly through the skin. They may also be an indication of a compromised immune system, which explains why some are more affected than others, especially within the same household.
Many mistakenly consider themselves done with cleansing when they should consider a long-term maintenance protocol to chip away at the many layers that may come hand with them. There may also be mucus present, which possibly also means parasites may reside inside this biofilm matrix, remaining hidden from most all remedies and medications. Staying consistent and even nourishing the body may be more beneficial than aggressively fighting, as pathogens may encyst with the detection of your persistence. Not to mention constant egg-laying. The reinfection factor may be huge!
We suggest at least two methods of administration to achieve saturation: powder, encapsulated, tea, or tincture form. While one may go to the gut, another may penetrate sublingually into the blood, therefore circulating to the organs. You may also get creative with your herbs and experiment with yourself by using them in many ways. For example, a tincture can be used on the skin, or as an additive to things like shampoo, cleaning water for the home, or even carpet cleaning solutions. A combination cannot be surpassed! 
There are many options in this package that allow you to focus on parasitic processes internally, as well as topically. Those with skin issues assume their problems are merely topical, although it may stem as deep as the gut. It allows you to also choose other supportive blends that may be helpful with keeping parasites as the main focus. 
Package Priced At 20% off! Using a coupon code offers even more savings!
Click on the names of the products to be directed to them for more information.
Package Options 
1. DisEase Solutions® Ionic Core Cleanse: 
If you wish to browse this site to read about our cleanse, CLICK HERE. All 4 mixes have a powerful synergy and all 4 together are highly recommended! 
2 Mix Cleanse

™

(Intestinal & Parasitic Mixes Only)

4 Mix Special

™

(All 4 Synergistic Mixes)

(Intest

~

Ease

™

Intestinal Biofilm Sweep

)

(Parasite

~

Ease™ Parasitic Purifier

)

(Impurit

~

Ease™ Toxin Binder Complex

)

(Pro

/

Pre

~

Ease™ Probiotics, Prebiotics, and Enzymes

)
2. 2 Tincture Special™:
4 oz. Tincture options that we feel may support parasitic processes. Keep in mind that where you have parasitic infestations, you may also want to work on the resistance aspect of the pathogens themselves! You may want to rotate remedies to support mold that may come hand in hand! It is all multi-layered. CLICK HERE, to browse our "Signature Tincture Blends" category. Our intentions were to make names self-explanatory. Create your own synergy! Our top 2 tincture recommendations would be:
A blend of powerful herbs like Andrographis, Wormwood, and more.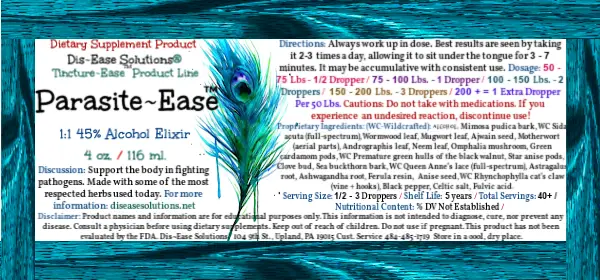 OR
A blend containing Asafoetida Oil & Garlic. Asafoetida has been used in many types of veterinary medications.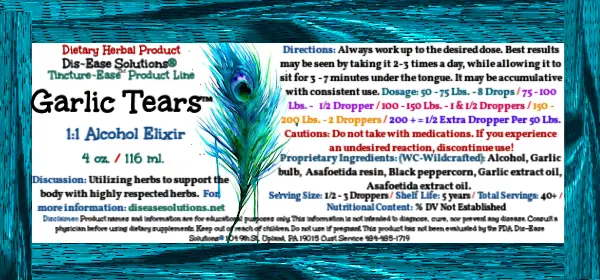 OR
Fluke~Ease™:
3. Enzymatic Solutions™: 
Crysa

L

ynn

™

protein-based, blood-cleansing enzymes. We feel that protease enzymes are of the utmost importance, especially when focusing on this type of infection. The enzymes may help to dismantle and dissolve protein, fibrin, and cellular matter as it is knocked loose and/or floats freely throughout the body and bloodstream. This may occur with this type of work and it may already be present in those that have never cleansed before.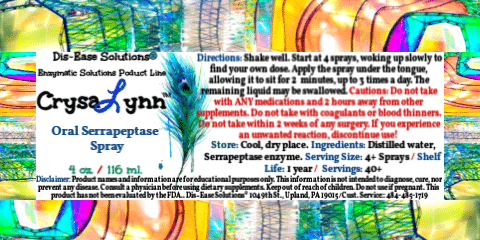 OR
Candida Solutions

™

 plant cell dismantling enzymes that are designed to chip away at the cell wall and then others in the mix may go after the inner proteins, also known as the core nucleus.

We offer both as an oral liquid spray or as a colloidal solution!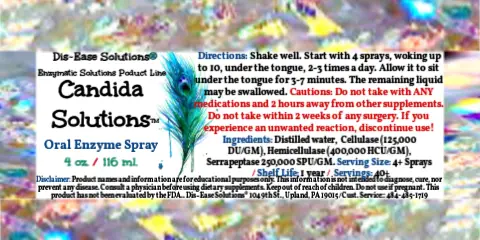 4. Reese's Pinworm OTC:
When my family was ill, this was something that we incorporated into our regimen.
5. Supplement Solutions™:
Options of synergistic supplements that we feel may assist your regimen like no other!
4 oz. QuerBerine Tea

™

is a liquid blend of quercetin and berberine, synergized and enhanced by green tea, including its flower! Some say that using the flower with the leaf and stems of a green tea plant may enhance the enzymatic activity by a thousand percent! Used in drops. Berberine is highly recommended for parasitic support.
OR
4 oz. CoQNAC

™

is a liquid blend of CoQ10 and NAC, heart-strengthening, and astringent properties. Used in drops. 
OR
4 oz. OralToler~Ease™ Bioavailable "Living" Collagen Complex  cold-processed collagen peptides, with adaptogens & enzymes! We advocate rotating a collagen supplement into your regimen in attempts to sustain damaged cells and linings, especially those that become newly exposed as the matter is removed.  When dealing with parasites, this may come in especially handy for oral tolerance processes.
OR
4 oz. Cherry

/

Berry C

™

Lipohspheric Vitamin C

 whole-f00d vitamin c that we put through the lipospheric process to insert energy, which in turn affects the oxygen content within the bottle. It contains freeze-dried acerola cherry, handpicked honeysuckle blossoms, camu camu, pokeberry juice, and much more

.
OR
Parasite~Ease™ Capsules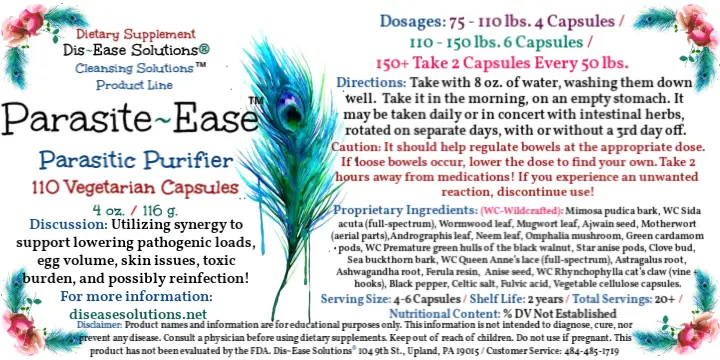 OR
Suppositor

~

Ease™

Parasite~Ease™ Vaginal/Rectal Inserts

45

herbal rectal & vaginal inserts that can also be used to drop in warm water to prepare enemas and/or douching solution with! They are surely multipurpose. 

6. Belly Button Solutions™:
We have pioneered navel soaks and offer them to you in different signature scents, as each scent is a blend of oils intended to support what the name indicates. Here is the Belly Button Solutions soak in the Parasite~Ease™ scent;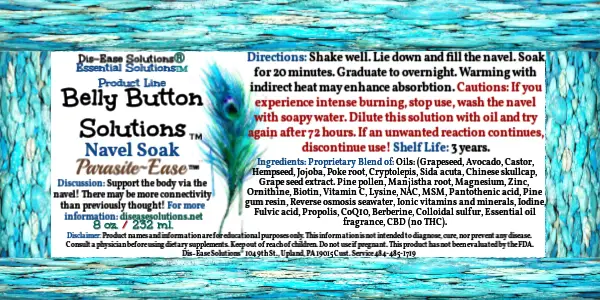 7. Nasal Solutions™:
A product for support where the pathogens may go to hide during any type of cleansing regimen. We have attempted to think outside of the box to cover all basis. Here is the Nasal Solutions™ spray in the Parasite~Eaes™ scent information:
8. Additional Saturation:
 Adding topical & other products, adding a saturation synergy like no other! You may click on the names to be redirected to that product for complete information if needed.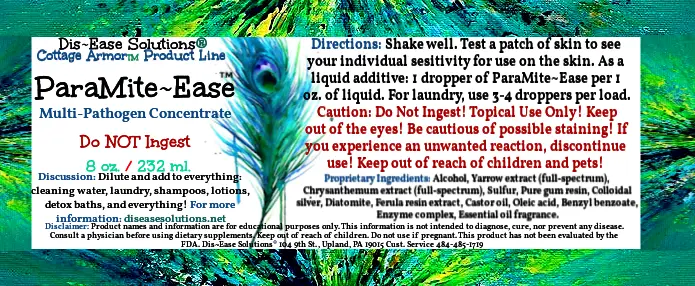 OR
OR
OR

OR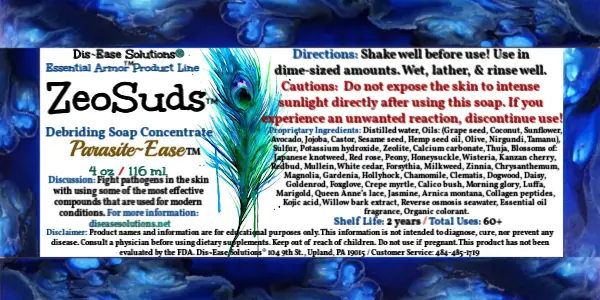 OR
OR

OR
Happy Cleansing!!!